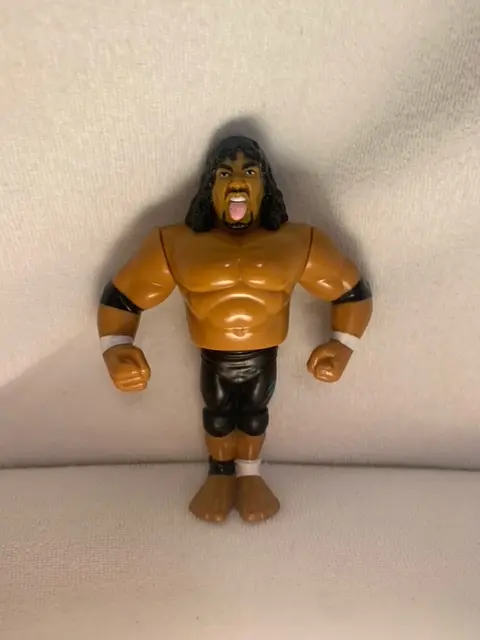 WWF Hasbro - Series 10
1994 wrestling action figure with Samu Shocker move
A former WWF Tag Team champion, Samu was a little easier to find in the stores than his partner Fatu.
Click to view Samu the Headshrinker WWF Hasbro unopened value
Total sales since May 2021
165 sales
Samu and his partner Fatu are known as the Head Shrinkers. South Sea descendants of cannibalistic warriors who once carried the heads of their enemies on stakes. Now the Shrinkers are hunting heads in the ring, and they're out to pave their way to the top with the broken bodies of their opponents!
How much is Samu the Headshrinker WWF Hasbro worth?
Loose estimate (opened)
$15
Price last updated: 1 March 2023

How this data is calculated: each week retrofigure scans hundreds of completed online sales transactions and uses this sale data to calculate an estimated value of a collectible over time.
WWF Hasbro series sales analysis: charts and data
Use our unique data to find data on how often WWF Hasbro figures are sold, retrofigure's estimated value for each figure in the collection and the figures that have received the most bids, averaged against total sales data.
Our estimated value over time for Samu the Headshrinker (loose figure)
This chart is Retrofigure's recommended value over time for the WWF Hasbro Samu the Headshrinker loose figure. Using sales data from various sources such as Ebay, Mercari and Etsy, our automated solution calculates an average value from the price of all sales. Our most recent estimate of the value of Samu the Headshrinker loose is $15
The WWF Hasbro line ran between the years of 1990 to 1994, across 11 different series. Each figure had an action move, usually unique to the character, and the action would be in stark contrast to other competition wrestling figure lines of the era. Today, loose WWF Hasbros are incredibly popular on popular auction sites. Many have stumbled across their personal collections from their childhood, and now in adulthood seek to complete the full set. A number of unreleased prototypes have been found over the years, and a number of 2-ups and test shots have also emerged. The Mailaway figures of Bret, Hulk Hogan and The Undertaker are amongst the most expensive in the series, and particularly hard to find still in their original bag. These are also very tricky to find loose, and are amongst the most expensive figures in the line. In some cases, figures can be sourced with their original box, and the biography card that was found on the back of the card. A number of 'error' figures have been found, with slight adjustments to the original design. These fetch huge sums of money on auction sites such as Ebay.
Sales price chart over time (without accessory) for Samu the Headshrinker
This chart is a visual representation of all of the sales that we have detected for the Samu the Headshrinker figure. Retrofigure uses this data to calculate a fair value for the collectible.